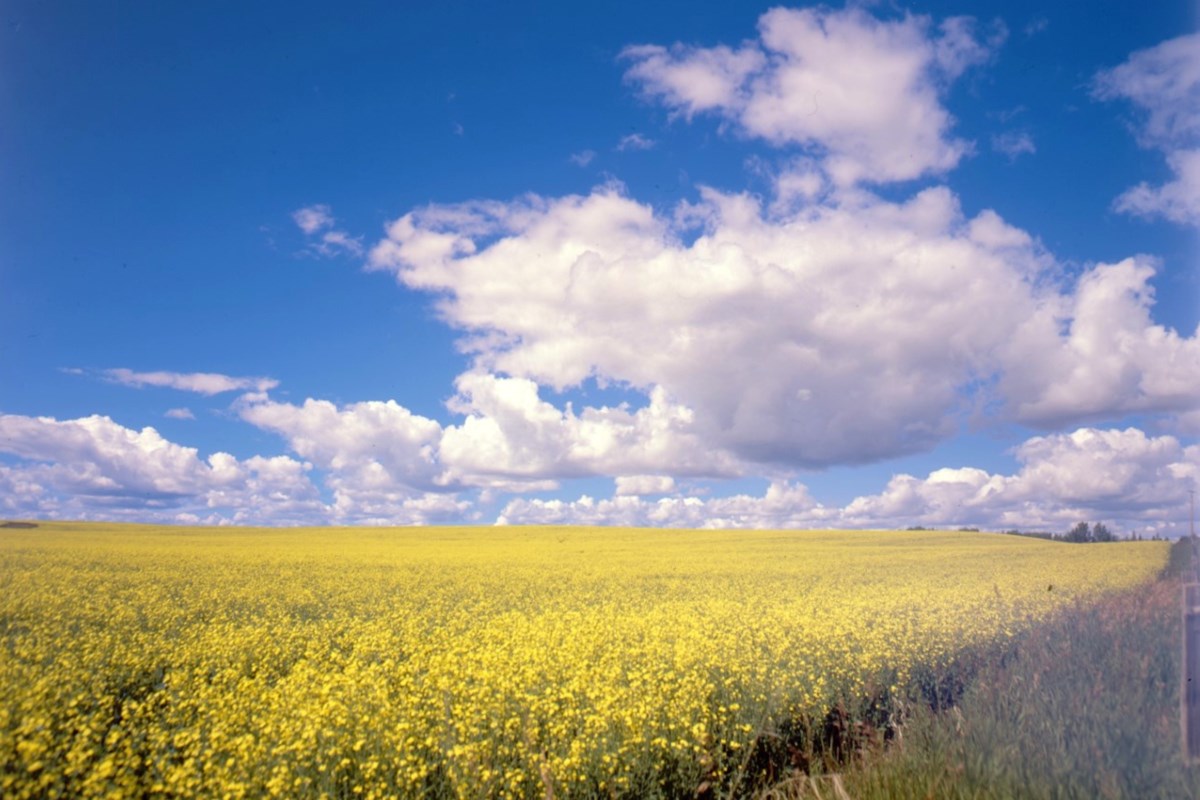 Vancouver cyclist recounts 1986 ride from Cochrane to Innisfail
Editor's Note: The following is an article submitted by Vancouver resident Eric Sorila, who undertook a bicycle trip from Cochrane to Innisfail in 1986. En route On May 10, 1986, a beautiful sunrise shone over Vancouver , British Columbia
Editor's Note: The article below is an article submitted by Vancouver resident Eric Sorila, who undertook a cycling trip from Cochrane to Innisfail in 1986.
To Alberta
On May 10, 1986, a beautiful sunrise shimmered over Vancouver BC
I had just read two books on the Canadian prairie: As for me and my house (1941) by Sinclair Ross and WO Mitchell's Who saw the wind? (1947). As a West Coaster, these books have inspired me to learn more about the Canadian prairie. Shortly after, I booked a trip to Alberta, with the intention of taking an epic bike ride.
I packed an old CCM bike into a big cardboard box and took a 690 kilometer Air Canada flight to Calgary. My good friend from Finland, Hannu Ahonen, met me at the Calgary airport and drove me 35 kilometers west to Cochrane.
At that time, Cochrane was a ranching town of just 5,000 people with a promising future. Today, the town – which was founded in 1903 and is named after local rancher, Matthew Henry Cochrane – has a population of over 34,000.
At the time, Cochrane was still a town of cowboys. This was confirmed by the life-size bronze statue of a man on his horse overlooking the city. Once there, I thanked my friend Hannu and started pedaling. I was proud of my Canadian made bike – CCM bikes have been made in Toronto since 1899.
A cyclist was an odd sight in this landscape, but Alberta welcomed me with open arms. I had in my backpack a big old film camera and a Bible. There was one more book in my bag. You wouldn't guess which one!
As I began my quest, Highway 22 rolled past me through hills and valleys. This terrain is known as the foothills of the Rocky Mountains. As I descended, a prairie wind whipped my cheeks and ruffled what little hair I had left. The climbs had to be done as my bike had no gears. That's when I noticed the lovely prairie wildflowers growing by the side of the road. Every blade of grass seemed to whisper in the summer breeze, "this is Alberta."
Slowly pushing my bike up steep hills allowed me to soak up the scenery. Alberta grows so much canola, which is then processed into oil and many other products. Fields of ripe yellow canola are an unforgettable sight, like oceans of yellow swaying in the breeze.
There were very few cars on the road, which reminded me that I was in pickup truck country. Along the road, birdhouses have been nailed to fence posts. All kinds of birds flitted around these nests. Swallows, finches, yellow warblers and bluebirds guarded their nests. Magpies – uncommon in Vancouver – have also appeared.
Magpies reminded me of a favorite Finnish author, Juhani Aho (1861-1921), whose book The railroad was published in 1884. A sentence at the beginning of the book reads: "There is a magpie crouched on the top of a tree, its short thick head buried in its feathers".
The magpie was in no hurry. Me niether. The chirping of birds and the sun on my back are the best travel companions.
I traveled straight north. To my left, 75 kilometers away, rose the Rocky Mountains. They looked like the serrated edge of a logger's saw.
Dusk descended on the meadow as I arrived in Cremona. The village started in 1906 with a forge and a cheese factory. I remembered the city in Italy that bears the same name. There Stradivarius (1644-1737) made some of the finest and most famous violins in the world. Some violinists still prefer a Stradivarius, even though the price for one is a million dollars. There is no apparent connection between Canadian Cremona and Italian, at least to my knowledge.
In the center of the village, there was a light brown wooden hotel. I walked in and the pleasant aroma of a sizzling burger in the restaurant kitchen beckoned me to eat. After a hearty meal, I climbed the wooden stairs to my room. It was like a well-protected nest under a huge prairie sky.
I moved the chair to the window. After the shower, I put my tired feet on the windowsill. Pure happiness! I breathed in the fresh air, absorbing the serene prairie landscape into my very being. Here was the peaceful prairie atmosphere I was looking for. Slowly and silently, dusk fell over the vast prairie sky and I fell asleep blissfully in the big bed.
My dear Caroline
After breakfast the next morning, I continued on my way north to my final destination of Innisfail. The saying "Sunny Alberta" turned out to be true. The terrain stabilized and I pedaled hard, feeling like the king of the road. There was hardly any other traffic. Gas stations and cafes along the road provided occasional snacks, keeping me going.
On the second day of my trip, I cycled 63 kilometers. I arrived in Caroline at dusk. In the middle of the village of about 400 houses, there was a large building. On the front was printed a slogan: "Kurt Browning Arena". That's how I learned that the four-time world champion skater Kurt Browning came from this region.
I rented a room in an old Wild West type hotel. The manager was a pleasantly chubby Polish lady who kindly welcomed me. There was a bar at street level. Since I'm not a drinker, I ordered tomato juice and a meal. I didn't want to weave on the road the next day!
As in Cremona, I went up the stairs to my room after the meal. I knew the mountains were now 100 kilometers to the east, although I couldn't see them.
A snowy surprise
I didn't find any beautiful landscapes in the book I decided to read that evening. The book was Mein Kampf, written by Adolf Hitler during his stay in Landsberg prison. It wasn't a peaceful read, but I ended up falling asleep.
In the morning I woke up and couldn't believe my eyes. It was May 15 and the ground was covered with a thick layer of snow. About eight centimeters of snow had fallen overnight.
My trip temporarily interrupted, I rented the room for another night. Having no winter clothes, I took advantage of the warmth of the hotel room with the disturbing book I had started to read the day before. Dealing with snow on a mid-May bike ride was unexpected, but I was in no rush.
The next morning Alberta's efficient plows had cleared away the rapidly melting snow and I was on my way again.
In Innisfail
I cycled straight east. The snowy fields appeared as flat as a table top. Driving along Highway 54, I passed through the quaint villages of Raven and Spruce view. Sometime in the afternoon, I arrived in Innisfail, a town of 7,000 not far south of Red Deer. My destination was close by: my sister Mirjam and her husband's farm on the outskirts of town.
It was wonderful spending a few days with Mirjam, Vern and their three boys. I gave my bike to Christopher (the eldest) and rode a Greyhound bus back to my home in Vancouver, 1,080 kilometers away.
More than 35 years later, this 165 kilometer bike trip is still etched in my memory. It was a trip that gave me the peaceful feeling of the prairie and the opportunity to see my sister! Sinclair Ross and Warrant Officer Mitchell would have been delighted.