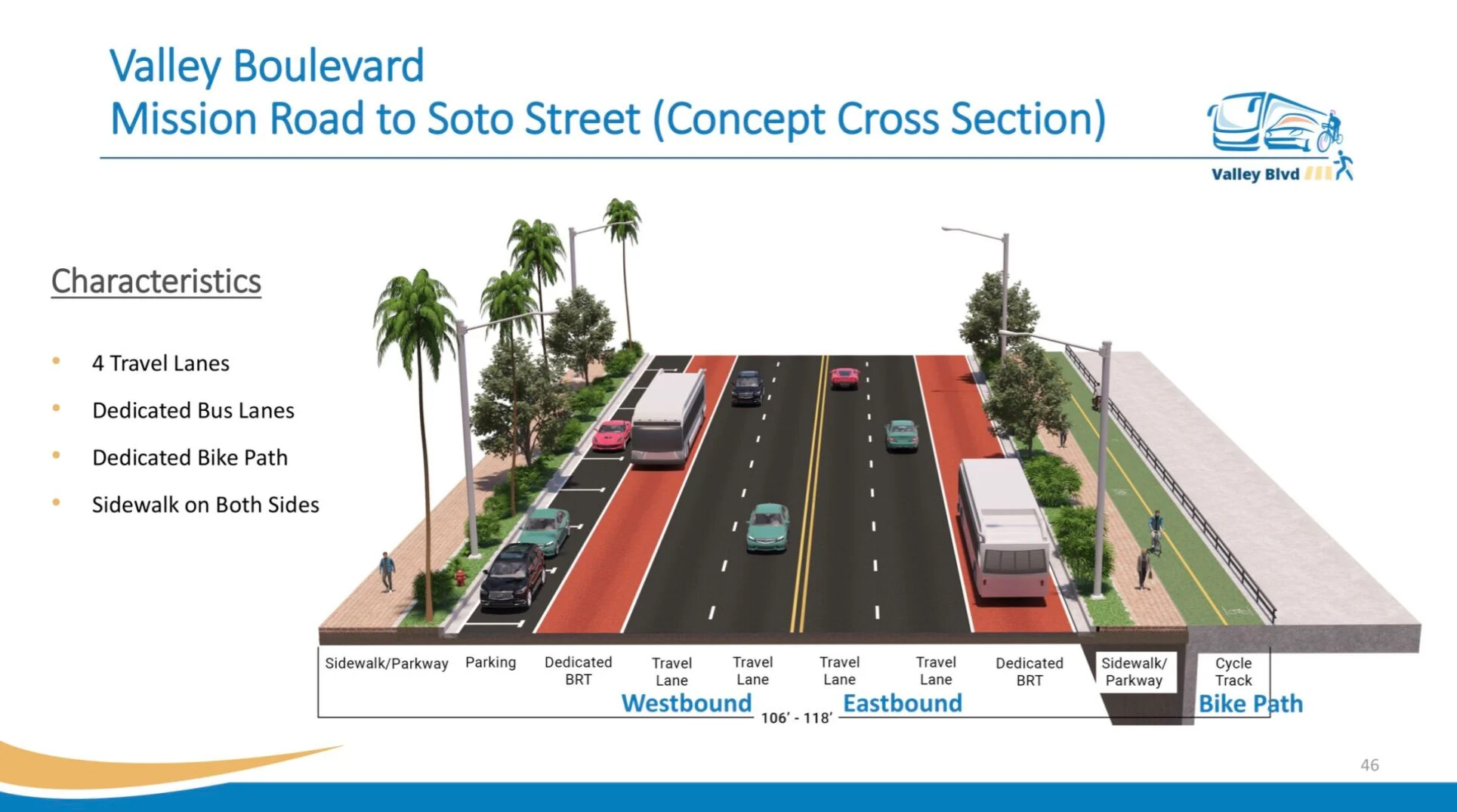 LA considering complete street transformation of Valley Blvd, US House hearing on traffic fatalities and closure of Ballona Creek Road
Los Angeles takes the first steps towards a complete makeover of the streets of Valley Blvd, from Mission Road to Soto Street
Proposals for the four-mile stretch of Valley Blvd include bus lanes and a possible two-way bike lane at curb level, while sinking railroad tracks to reduce railroad crossings and improve safety.
But don't hold your breath.
The actual construction takes at least five to ten years. And what gets built will depend on a series of town hall meetings, giving the usual NIMBYs a chance to derail everything.
Photo courtesy of the City of Los Angeles, via The Eastsider.
……….
It was time.
The U.S. House of Representatives Subcommittee on Transportation and Infrastructure held a hearing yesterday to examine the growing rate of deaths on the country's roads, particularly among pedestrians and cyclists.
Again, it's one thing to hold a hearing. It's another to do something about it.
Which hasn't exactly been Congress' forte in recent years.
………
A section of the Ballona Creek Bike Path between National Blvd and Duquesne Ave in Culver City will be closed this month.
Sorry, friends. The path is closed. #BikeLA pic.twitter.com/xPfhTBWBiB

— Joe Anthony (@ohaijoe) June 8, 2022
………
Sunset For All is hosting another cafe walk to publicize plans for a more human-centric boulevard.
The next coffee walk will take place on June 18th! Join us at Echo Park to meet our neighbors and do business outreach ☕️🚲🛴 pic.twitter.com/T4UefDO4M4

— Sunset4All (@SunsetForAll) June 7, 2022
………
The war on cars may be a myth, but the war on bikes continues.
An Idaho man faces up to 15 years behind bars after agreeing to a plea bargain for crossing a public park trying to run over a boy on a bicycle; luckily the child was able to jump off before the man crashed his bike.
British police are looking for the passenger of a pick-up truck who shouted out the window and squirted 'unknown fluid' in the faces of two cyclists as the truck passed them. Far from being a harmless prank, something like this can scare the victim and cause a dangerous failure – whether or not the substance itself is harmful..
………
Local
A Long Beach cyclist is in stable condition after sustaining upper body injuries when he was hit by a hit-and-run driver in the California Heights neighborhood.
State
Victorville will close part of Green Tree Blvd for three months as part of a street renovation, including adding bike lanes along the roadway to create a seven-mile bike loop.
Zebra sightings continue in Santa Barbara, including one that chased a cyclist on Sunday; locals suggest it could be a free-roaming pet that has already been on several walks.
Mr. Roadshow of San Jose says he's surprised the Bike League has ranked California as the fourth most bike-friendly state in the nation, even as cyclist and pedestrian fatalities continue to rise. He should see how surprised we are.
There's a special place in hell for whoever stole a therapy bike belonging to an 11-year-old Sacramento boy with cerebral palsy; fortunately, caring members of the community raised over $3,000 to replace it.
National
Outside features their favorite outdoor love stories shared by the magazine's readers, including a California couple's mountain bike encounter that sparked their relationship.
consumer reports warns against purchasing or using the Tony Hawk Silver Signature Series Helmet after failing a safety test; the manufacturer had offered the headset as a replacement for the recalled Dimensions Bluetooth Speaker multi-purpose headset, which also failed the magazine's safety tests.
Ride a bike recommend their picks for the best saddle bags. As usual, read it on Yahoo if the magazine blocks you.
Dallas is the latest major city to adopt a Vision Zero program, agreeing to end road deaths by 2030. Hopefully they show more commitment than Los Angeles and other cities, where it fails for lack of effort and investment.
A Chicago public radio station is examining what the city can do to improve safety for cyclists, after three cyclists died on city streets this year. Meanwhile, Los Angeles suffered more than twice as many deaths, and no one even batted an eyelid.
Prosecutors have charged an Indianapolis man with murder in the fatal hit-and-run that killed his ex-girlfriend while riding a bicycle; she identified her killer by giving police her license number before she died.
A writer from Streetsblog says New York can have some nice things, but only after getting rid of the cars – like blocking vehicles from the iconic Brooklyn Bridge.
It's more like that. DC is considering a plan to charge owners of large trucks and SUVs more to register their vehicles in an effort to improve safety for cyclists and pedestrians, with an additional $175 for vehicles weighing between 3,500 and 6,000 pounds , and $500 for anything over that.
International
Digital diary suggests smart helmets could be the future of bike safety.
British police are relying on bike camera and dashcam video to enforce traffic laws, after traffic cops have been cut back. Unfortunately, this is illegal in most, if not all, US states where a traffic violation must be seen by a police officer..
A 49-year-old father of three from the UK explains how cycling helped him recover from a brain tumour, calling it as important to his recovery as his medication.
Your next custom Italian steel bike frame might come with gold plated lugs and seatstays.
A 42-year-old Dutch woman has been charged with attempted manslaughter for grabbing the arm of the country's former legal protection minister as he rode his bike at high speed, causing him to fall heavily and break several ribs , as well as his pelvis and collarbone.
Competitive cycling
Former world cross champion Thalita de Jong is finally back in the women's WorldTour, five years after a knee injury chased the Belgian cyclist from the highest levels of the sport.
The sporty one says seven-time Grand Tour winner Chris Froome is in the toughest fight of his career as he battles just to make the Israel-Premier Tech squad for the Tour de France.
The coach of India's international cycling team has been accused of sexual harassment and trying to impose himself on one of the country's top female cyclists.
The Spanish cycling community has mourned the death of Julio Jiménez, 87, one of cycling's top international climbers of the 1960s, after he was killed when the driver of the car he was riding in crashed into a wall .
To finish…
There's nothing like a quick 105 km/h bike ride through the Californian desert. Your next bike could be the self-proclaimed Ferrari of e-bikes, for the low price of just $18,000.
And that feeling of biking jousting with boat oars ends pretty much as you'd expect.
Rowing games on bikes from WinStupidPrizes
………
Be safe and stay healthy. And get vaccinated, already.
Oh, and damn Poutine too.