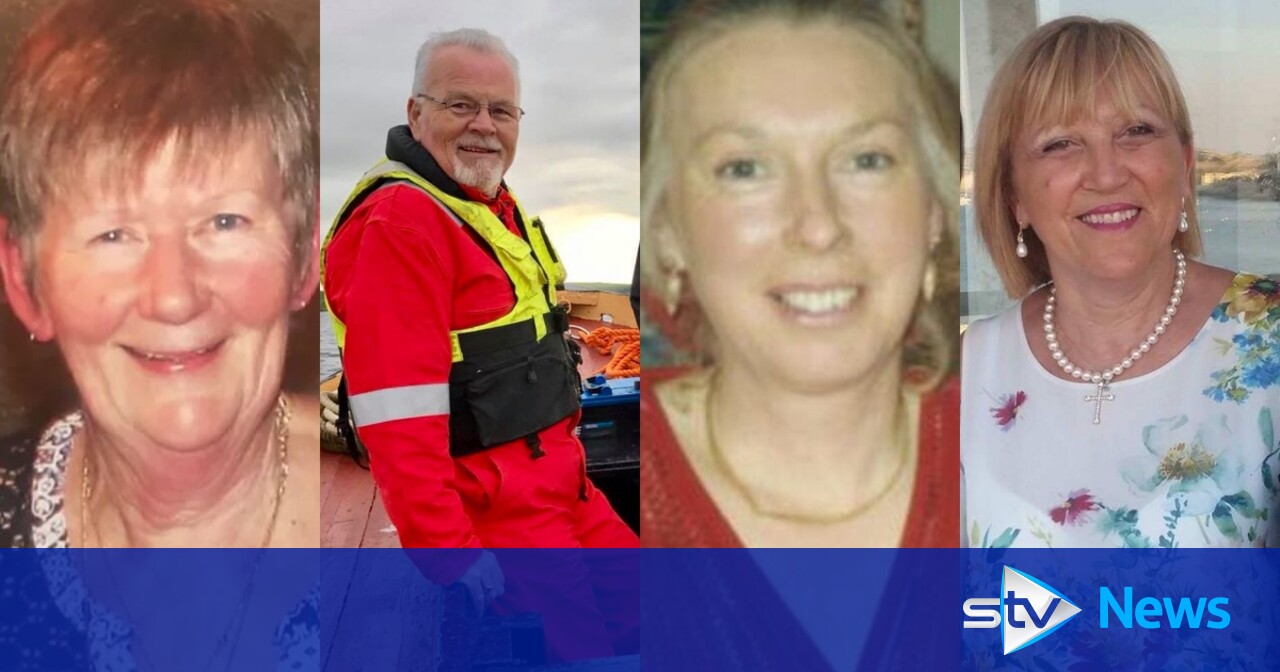 Italian navy officer charged in Moray crash that killed five people, whose son denies falling asleep at the wheel
An Italian tourist has claimed he found himself driving on a "very dangerous" road in the dark north of Scotland before a crash that left five passengers dead, including one of his sons.
Alfredo Ciociola denied falling asleep or repeatedly driving on the wrong side of the A96 before the collision near Drummuir Junction near Keith, Moray.
He said it was possible he was disoriented by the headlights of the oncoming car. He maintained that he had been very careful partly because of the road "which for me was very dangerous".
He says he asked his wife, who was in the back of the minibus he was driving with their two sons, if they were sleeping. When she didn't answer, he checked his mirror.
He told the Edinburgh High Court: 'It was dark out back so I couldn't see anything. I had seen the other car and it was right in front of me when it came around the bend.
Ciociola, 50, an Italian navy officer who works with the coast guard, said: "I saw the lighthouses. They were very strong. I lost my orientation. I was sure, I was convinced that we were on the same path and instinctively I went to the right.
He said after the crash he asked if everyone was okay, but only his front passenger, Francesco Patane, answered.
His lawyer, Ian Duguid KC, asked him how he felt about the deaths of three people in the car he hit. Ciociola said, through an interpreter: "It's the most terrible thing you can hear and the pain of the families is also my pain."
During cross-examination, Assistant Attorney Derick Nelson told Ciociola that if he had kept his eyes on the road, he would have seen the lights coming his way sooner. He answered: "yes".
But he later said in evidence: "I did something that I do a lot of times when I'm driving. I check in the rearview mirror and keep my eyes on the road ahead of me at the same time.
Ciociola's eldest son, Lorenzo, four, died in the crash along with Mr Patane's wife, Frances Saliba, 63. Lorenzo's younger brother Frederico, three, escaped with minor injuries.
Morag Smith who was driving the Nissan SUV he collided with was seriously injured and his three passengers Audrey Appleby, Edward Reid and Evalyn Collie died.
Ciociola's wife, Concetta, was also seriously injured but has given birth to another son since the collision on July 26, 2018. He is now two years old.
Ciociola, who was also injured, denied causing the death by dangerous driving. It is alleged that on the A96 he did not pay enough attention to the road ahead, fell asleep and repeatedly braked and turned onto the opposite carriageway.
He said he had very limited driving experience in Scotland on a previous visit. They had planned a tour of the country which would pass through Edinburgh, Inverness, Orkney and Argyll and he was driving from Stonehaven to Inverness when the accident happened before midnight.
Mr. Duguid asked him if he thought the A96 was dangerous and he replied: "Very dangerous. I tried to be as careful as possible. I tried to pay attention to everything around me as much as possible.
Ciociola told the court: "I have been driving on the right for over 30 years. It's not easy to get used to driving on the left, especially when you're on a narrow street.
Ciociola said his wife, who was still in a coma when she was flown back to Italy on September 24, 2018 before regaining consciousness, does not remember she came to Scotland.
The trial before Lord Mulholland continues.