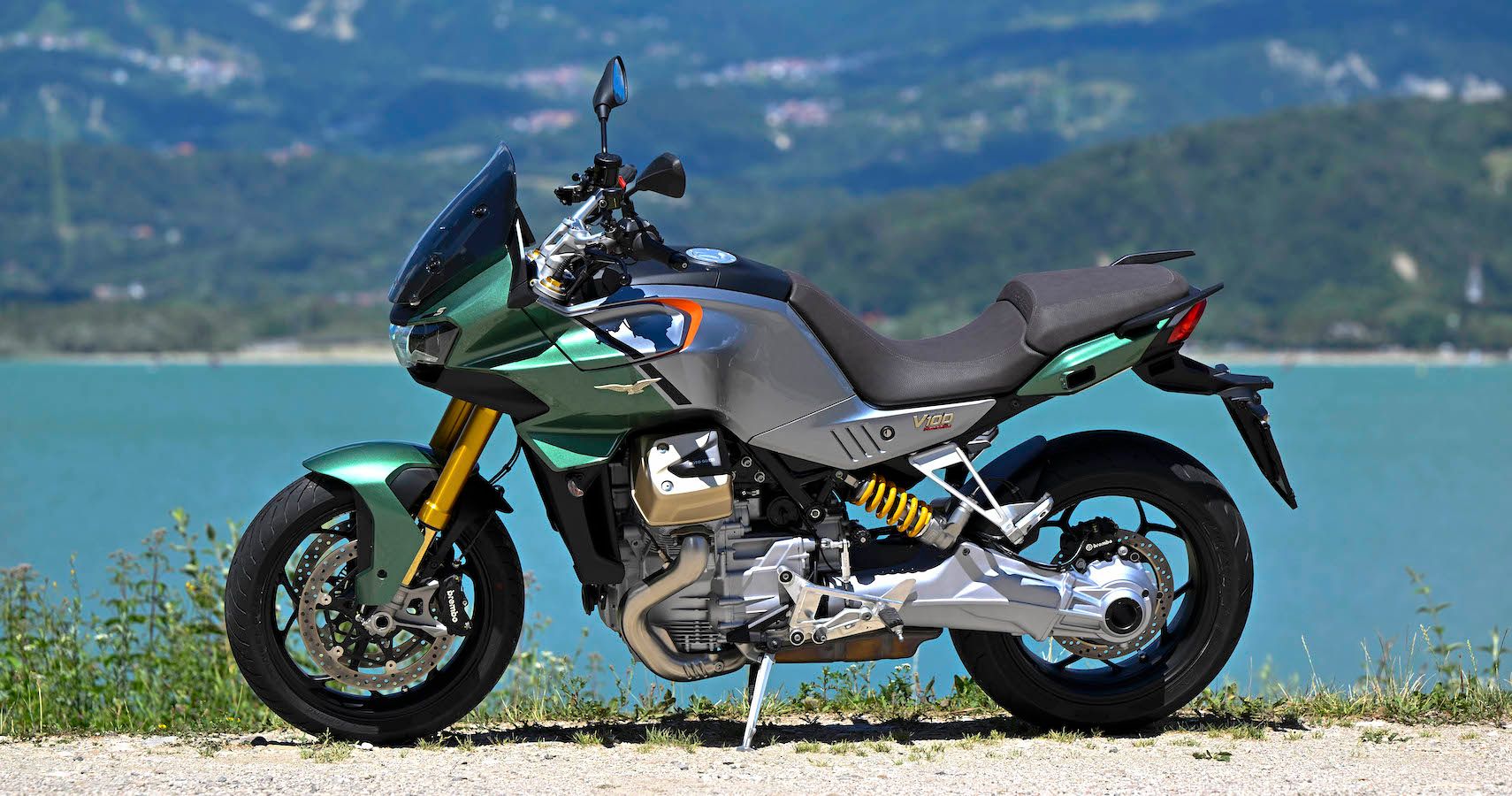 Guide to buying a Moto Guzzi V100 Mandello 2022
Seconded to the Italian Air Force at the start of the First World War, Carlo Guzzi was a flight engineer and met Giorgio Parodi, a biplane pilot. United by a love of motorcycles, the men agreed that if they survived the war, they would start their own motorcycle company. In 1921, Parodi's father, a wealthy shipbuilder, supported the former flight engineer and his aviator son, who founded their young company in Mandello del Lario, a small town on the shores of Lake Como.
Moto Guzzi celebrated its first centenary last year and announced the imminent arrival of the V100 Mandello as part of the celebrations. Slated for release in 2022, the Mandello's transversely mounted 90-degree V-twin architecture has been a Moto Guzzis hallmark since the late '60s. Nonetheless, in just about every other aspect, its latest model marks a significant step forward for the legendary brand.
Main characteristics
Adaptive aerodynamics
Semi-active suspension (S model)
Electronically adjustable windshield
Next-generation liquid-cooled V-twin
Full suite of driver aids and electronics
Heated seat (and hand grips with S model)
Features
Model: V100 Mandello
Engine/Motor: DOHC, liquid-cooled, DOHC 1042cc, V-twin, 4VPC
Powerful : 115
Couple : 77 ft/lbs.
Transmission: Shaft transmission
Transmission: 6 speeds with Quickshifter
Advantages
New V-Twin delivers more grunt
Exceptional style
Practical features for Sport-Touring
The inconvenients
Original exhaust manifolds – It's still a Guzzi
It's a Guzzi, but not as we know it
With a longstanding reputation for marching to the beat of its own drum, Moto Guzzi rarely follows the crowd. His bikes tend to be quirky or characterful, depending on your perspective. In this tradition, the design of the V100 Mandello defies classification. A not-quite-naked fairing and sporty motorcycle silhouette combine with tall, wide handlebars typically associated with a tourer. So what are we supposed to call it? Certainly not weird. Gorgeous is the first word that comes to mind, but there's more to this bike than just good looks. Debuting Guzzi on the V100 is a newly designed powertrain, a full suite of electronics and driver aids, and a unique adaptive aerodynamic system.
New generation V-Twin from Guzzi
The V100 Mandello gets a new liquid-cooled V-twin, which is now four inches shorter. By rotating the cylinder heads 90 degrees around their vertical axis, unsightly throttle bodies and air intakes now enter through the center of the bike, out of sight. The exhaust manifolds, which now have to exit from the sides, look more like engine protection bars at first glance and are perhaps the only original aspect of the new design.
RELATED: Here's What We Love About The Moto Guzzi MGX-21
Guzzi claims the new DOHC, 1042cc, V-twin, with four valves per cylinder, will produce over 115 horsepower and 77 foot-pounds of torque, tuned to provide plenty of low-end grunt. Significantly better numbers than offered by the air-cooled 850 V-twin driving the V85 TT, with just two pushrod-driven valves per cylinder. Better also than the excellent Yamaha Tracer 9, but well below the performance offered by the BMW S 1000 XR that we recently tested, both likely competitors.
Familiar chassis design meets new powertrain and suspension
The engine is a stressed member of the tubular steel trellis frame and, thanks to its shorter length, allowed Guzzi to mount a longer single-sided swingarm and shaft drive lower in the frame. He claims this minimizes the "check" effect common to shaft-driven motorcycles without requiring a secondary linkage. The innovative compact engine also gives the V100 a shorter, sportier wheelbase which, at 58.5 inches, promises unprecedented agility in a Guzzi. For reference, the BMW R 1250 RS we tested has a 60.2-inch wheelbase.
RELATED: Check Out This Gorgeous Moto Guzzi Race-Ready V7
The top-of-the-range S trim will also feature Öhlins Smart EC2 semi-active suspension, which offers live damping adjustment to suit road conditions and driving styles, in conjunction with the chosen drive mode. . Meanwhile, the base model features a Kayaba manually adjustable fork and shock. Base and S models feature radial-mount four-piston Brembo monobloc calipers with two 320mm discs up front and a Brembo two-piston with a 280mm disc out back, and well Although Guzzi hasn't released any weight specs, we expect them to provide ample stopping power.
A transformer that doesn't try to look like a
Moto Guzzi claims the V100 Mandello will be the first motorcycle in the world to feature adaptive aerodynamics. Two air deflectors mounted on the gas tank shoulders allow manual or automated deployment. In automatic mode, the deflectors adjust according to a default speed map or one determined by the pilot. In the fully up position, Guzzi claims the aerodynamic wings reduce air pressure on the rider's torso by 22%.
The sporty windscreen offers electronic height adjustment through a substantial range of motion and, together with the adaptive aero, appears to transform the V100 from a semi-naked roadster into a fully faired sport-tourer. Indeed, Guzzi claims it "will ride like a roadster, but with the comfort and travel vocation typical of the best tourers." Something we can't wait to test when the models are available.
State-of-the-art electronics
The V100 Mandello uses a fly-by-wire system linking a Marelli ECU to a new six-axis IMU sensor, allowing Guzzi to offer, among other things, semi-active suspension, cornering ABS, adaptive headlight, traction control and adjustable engine braking. A new 5-inch color TFT display (inherited from the 2021 Tuono V4) offers a choice of four driving modes, Travel, Sport, Rain and Road, which use separate maps to determine how well different systems intervene and adapt . Riders can customize the various mode settings to suit their skill level and preference.
The screen also incorporates Guzzi's MIA system, which allows connectivity for smartphone and helmet communications via Bluetooth (iOS and Android). Functions include handlebar/voice operation of the infotainment system (requires helmet comms) and GPS, which uses smartphone mapping technology to display basic directions on the dash, although this is not does not extend to Apple CarPlay and Android Auto.
Versatile LED lights, with "eagle" DRL and adaptive headlights are standard in both versions. The adaptive system, consisting of two additional light modules, processes data from the IMU to determine the angle of inclination and direct illumination in oncoming corners. A heated seat is also standard, but heated grips require upgrading to the S model, which also provides a quick, auto-blipper-filled shifter.
A Guzzi for the 21st century
Although the aesthetics of the V100 Mandello are hard to pin down in a single class, its core features align primarily with sport touring. Moto Guzzi has highlighted accommodating a passenger in comfort as a core design benchmark and says the seat will provide all-day comfort for both rider and passenger, with grab bars and footrests. judiciously placed feet. The aerodynamics promise good wind deflection without the need for a bulky fairing, and the 4.6-gallon tank should provide reasonable range.
The compact liquid-cooled engine and new electronics suite are a huge step above the technology that underpins the current Guzzi range and we expect future models to use more of the same in the future. We'd like to see a liquid-cooled version of the third-gen V7, with a shorter wheelbase. First and foremost, the V100 Mandello is a beautiful machine to behold. A brilliant balance between angular, contemporary touches and the subtle, flowing lines of a classic roadster. The styling is as cool as the Tramontana winds whistling over Lake Como in winter, perfectly highlighted by the stunning snowflake cast aluminum wheels. We can only hope it rides half as good as it looks.