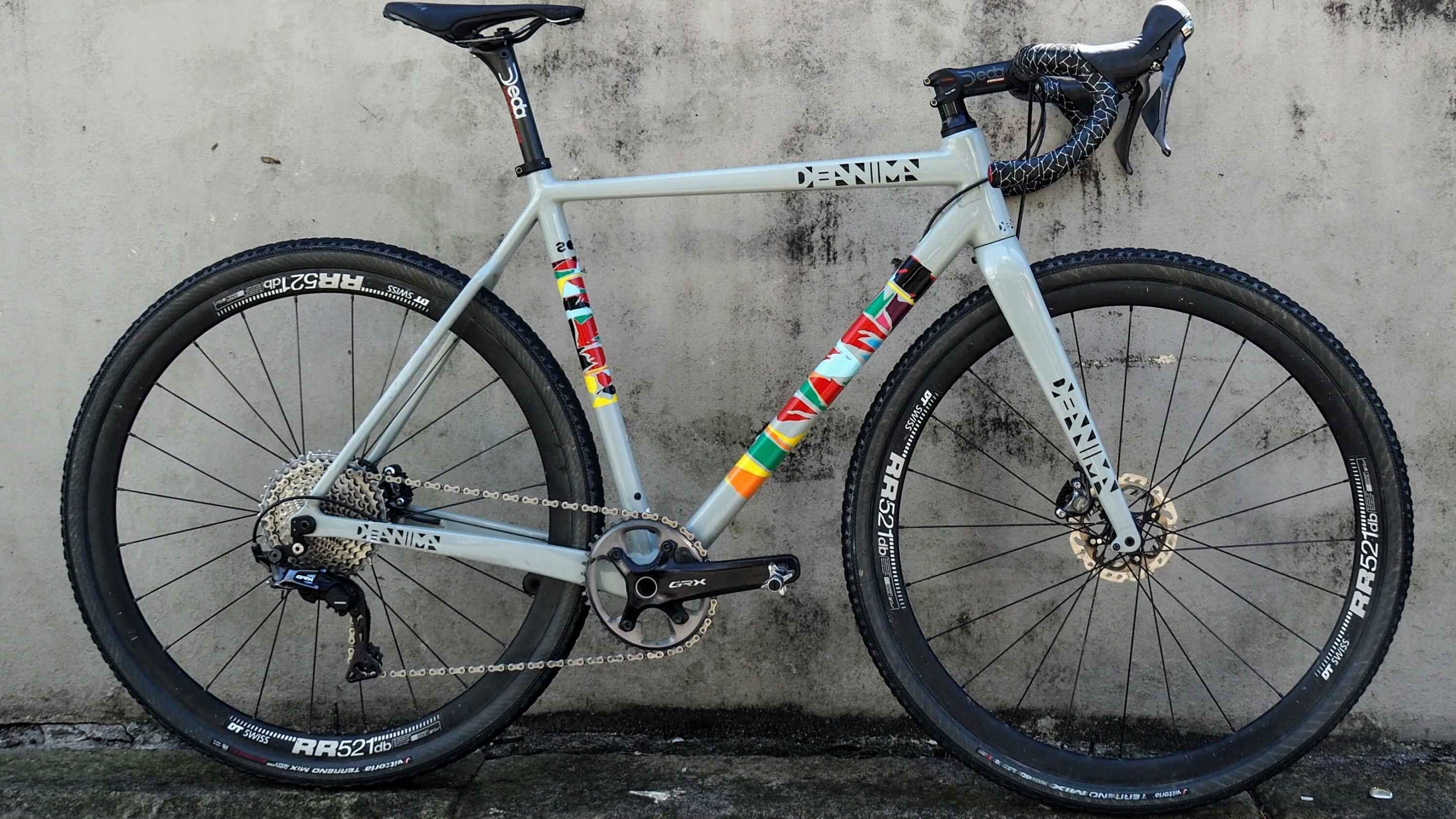 Gravel Test: DeAnima Soul Custom Version
Alison McGregor has literally traveled the world to find the perfect gravel bike, here she explains the process of building her dream bike.
Unless you are a champagne gravel seeker, you are probably like me, looking for unusual routes. On the roughest trails, you battle extreme conditions.
I'm no Bear Grylls, but that constant drive to jump a snake or avoid a possible impending doom makes gravel damn exciting. The irony is that when it comes to marketing, gravel bikes tend to be defined by their level of comfort. Well, the following review is devoid of any comfort scale. It's not because I feel pain on my DeAnima Soul, but because DeAnima won't make unobtainable promises.
The gravel is dirty, hard and sometimes wild. Your best bike should allow you a whole range of experiences on the gravel, from sliding through sandboxes to losing your sight when you vibrate on the worst washboard roads.
A look back
Reverse until June 2019. I'm traveling through Trentino in northern Italy in search of the perfect gravel bike. Typical dry heat is unavoidable. As my business partner David and I exit our air-conditioned rental car and enter the DeAnima showroom, Matt Cazzaniga (co-owner of DeAnima) greets us with the water offering. He leads us through the gallery where painted tubes catch my eye.
The Pegoretti hand is immediately identified by abstract painting. The famous brothers Gianni and Dario Pegoretti, carpenters, grew up in a house of art. This ancient aesthetic influence on Atelier DeAnima makes it feel like I'm visiting an artist's studio. I look around me and refer to some of my favorite European abstract artists: Piero Dorazio, Cy Twombly, Claude Viallat.
We meander through the bikes to get inside the large workshop. The heat remains the same. Here stands leading frame builder Gianni Pegoretti. They are waiting for us and he strides forward, his hand outstretched. In calm Italian, Pegoretti takes David aside to discuss the technical aspects.
Meanwhile, Matt talks. He guides me through the workshop and with a perfect English accent talks about the current bicycle market. He shows me the painting area, another room with a clean floor and large templates. Nearby full frames hang like animals at the butcher's alongside rows of forks and frames.
With finality, Matt stops at a carbon frame. It is raw without a coat of paint. In the hands of the DeAnima team, this chrysalis is about to emerge into a gravel bike called the Soul. If I could see the future, I would know it was to become my off-road champion.
But the future is unreadable, and while I absorb the perfect unison that occurs during the custom build process, I still don't know if the Soul is the best bike for me. I question Matt. Why would I want this frame? "It's fast," he replies. The silence that follows is poignant. I expect jargon, a sales pitch, at least reasoning. Instead, Matt kind of looks at me, waiting.
Retrospective: Ordering the Soul
In our subsequent conversations, I realized that Matt's answer was not evasive. The silence had a logic.
Hiking trails are more than a fad. For me, gravel walks are about enjoying nature and getting through every adventure in one piece. I wanted a bike that provided excitement and allowed for hours of efficient riding. Although speed is an attractive trait, most of us sit in front of the computer for hours a day hunched over while tightening our ITBs. You will probably be aware that fun on the bike depends on maintaining a riding position for half a day or more. If you're too aero or aggressive, the pain takes over.
The key to understanding if this bike is for me is understanding and trusting the customization process in the hands of the specific builder.
I already owned a custom road bike and luckily the intricacies of custom buying are familiar. If you haven't yet entered the world of having a bike tailored to your specifics, the process can be a mystery to unlock. The same goes for your trust issues as a consumer. We've become obsessed with buying products based on reviews, whether through paid marketing, published reviews, or the personal experience of cyclists on social media. But, instead, I like to go to the source to understand exactly where the bike was designed, why, and by whom?
Know what and who makes the frame
A few years ago, Gianni prepared a geometry suitable for difficult gravel terrain as well as groomed roads. The goal was to create a bike that could handle it all. With his vast experience he is sure this bike is more than capable of handling the terrain I ride on.
When you order a bike like the Soul, Gianni will follow the specific geometry but tailor each tube to your measurements and flexibilities. My dimensions are indeed imprinted in the design of my Soul, which makes it one of a kind.
The customization process perfectly synchronizes the bike with the terrain and the rider. This unit translates to riders confidence in the handling of the bike and this in turn helps with riding in the extreme gravel conditions.
…I'm traveling through Trentino in northern Italy in search of the perfect gravel bike.
Maximum bike handling, correct bike stance and balance carried on a geometry designed to withstand the forces of gravel.
The advantage of custom
Only a handful of Italian master builders continue to make bespoke frames. Many possess skills and equipment passed down from generation to generation.
Currently, the construction of custom frames is experiencing a revival. Perhaps it's a response to trends and increasing biker intelligence that are questioning the limits of generic sized models. Possibly because the availability of factory frames is problematic and therefore the custom purchase turns out to be faster. Either way, DeAnima is a well-known brand for quality and providing bikes to customers that are not up to standard.
Personalize the future
When I asked Gianni about the main benefits of customisation, he quoted "About 40% of people would benefit from a custom frame." Unfortunately, the choice is taken by many consumers who remain only exposed to generic-sized brands. Matt and Gianni discussed at length the role of marketing and its effect on choice. "The explosion in bicycle sales around the world has meant that frame geometry has been standardized to maximize production," says Gianni.
The problem with generic sizes is that we are rarely standard. There's a reason bike building is a growing profession. A rider who is either very tall or very short will likely experience running soreness compared to a generic frame size. Additionally, riders whose proportions differ from standard sizes often compromise with stem and saddle position. Long legs and a short torso are an example where spacers are frequently added and the upper is shortened. This affects both the handling and the safety of the bike.
Instead, a custom bike represents all of our idiosyncrasies. Not only our physical appearance and characteristics, but also our driving intentions. Gianni asks for details. "Beyond the classic body measurements, you have to know what the frame is going to be used for, the length of the outlets, the type of surface, this allows you to maximize the personalization of the frame," he tells me.
Collision forces: adapted and fast
I now call Matt's term, "That's fast," the no-BS response. DeAnima does not rely on the cycling jargon that pervades so many reviews. They don't believe it because combining every technical term designed to describe a single image is meaningless, a lie, physically impossible. Matt says, "A lot of people come to us saying…we told them to buy a gravel bike because it can do anything. It's like, well, not really. I mean, you can put road tires on it, do anything, but it will never be a road bike because of the geometry.
The Soul can accommodate up to a 40c tire, so if you want comfort, as Matt says, "You probably don't want a gravel bike but a fucking mountain bike with really big tires." Or maybe you'd be better off watching a friend's GoPro recording from your couch.
How does the actual ride feel? Let's stay in the realm of reality. Dirt, rocks and sand are hard on the body, to slide in terminology, the Carbon Soul is stiff to ride. It helps when you need traction to keep the wheels down on the climbs. Thanks to the customization, the bike is stable. This is especially true compared to other bikes that have their own built-in suspension headsets or seatposts.
In my experience, these additions provide the rider with minimal comfort, but are ripe for failure and can add an element of sloppyness to a ride. Instead, the soul stays true to its purpose. It's raw, capable, even ruthlessly precise in its handling when fully tuned.
My gravel partner frequently comments on how much of a part I am on the bike. That glove-like fit feel is a familiar trait of professionally built custom bikes. As for the soul, that feeling of being part of the bike is visible when I correct myself on slippery sand or gravel corners at high speeds.
The moral of the story is that a gravel bike is a gravel bike because it pushes you beyond your comfort zone. You'll want to fly on the edge of your seat because the adrenaline is part of the joy. Adrenaline makes you feel alive, adventurous, brave, and if you don't mind a cliché, free.
Gravel is unpredictable and a bike that handles quickly is an advantage on the trails. On the Soul, note the shortened seatstays, thinness of the seatstays and the angle of the head tube. All of these characteristics indicate a bike designed to react quickly, similar to a road equivalent.