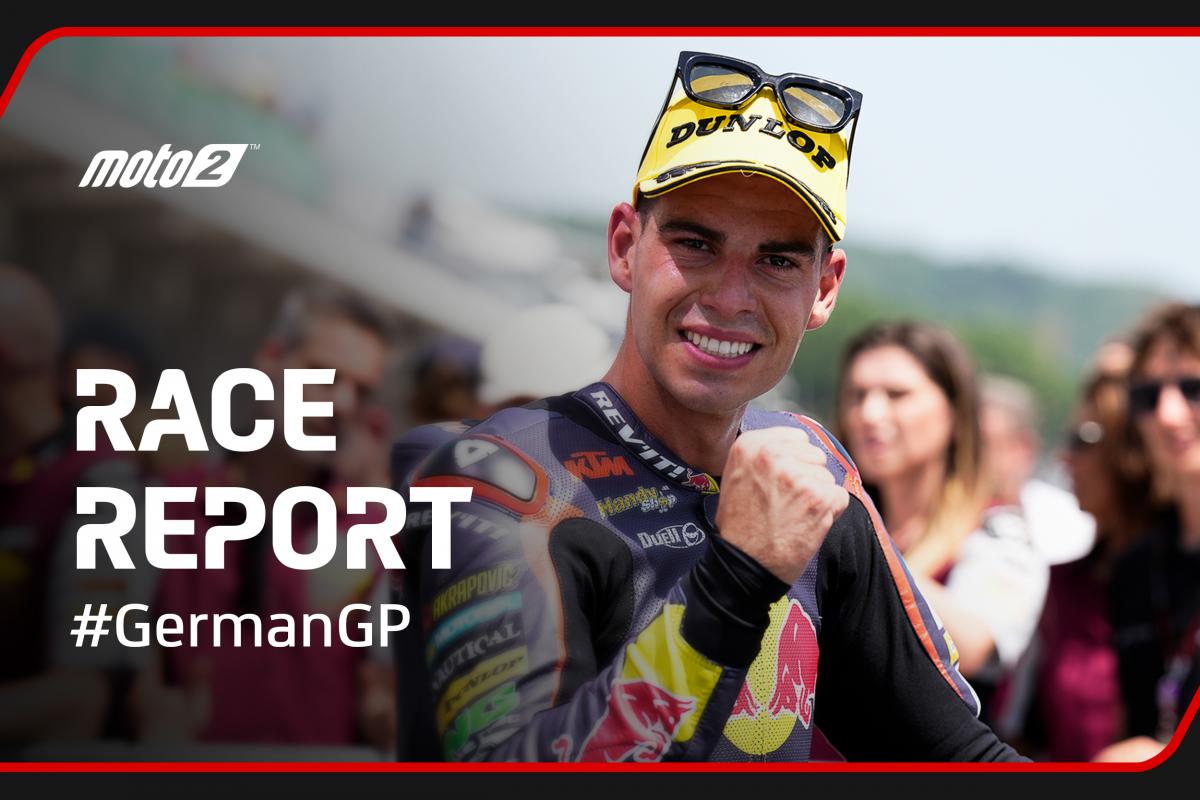 Fernandez dominates in Moto2™ at Sachsenring
KTM Ajo takes one-two as World Championship battle tightens
Augusto Fernandez dominated the Moto2™ race at the Liqui Moly Motorrad Grand Prix of Germany while Pedro Acosta took a Red Bull KTM Ajo one-two finish after a thrilling four-rider battle for the minor classifications. Fernandez took the lead on lap 6 at Sachsenring and led until nine seconds before slacking off on lap 28 and final. Pole sitter Sam Lowes (Elf Marc VDS Racing Team) passed Marcel Schrötter (Liqui Moly Intact GP) on the penultimate lap to snatch the final podium spot while World Championship leader Celestino Vietti (Mooney VR46 Racing Team) failed to score points after crashing from 11th place.
Lowes converts pole to lead
Lowes was looking to end a run of five consecutive zeros after qualifying on pole, and the Briton duly converted that starting spot into the lead. Germany's Schrötter (Liqui Moly Intact GP) climbed out of fifth on the grid to emerge second in the first corners of his home race, ahead of Fernandez, Albert Arenas (GASGAS Aspar Team) and Joe Roberts (Italtrans Racing team). Aron Canet (Flexbox HP40) however fell from 6th to 12th and Vietti from 8th to 10th.
Acosta broke into the top five when he passed Roberts on Lap 3 at Turn 1 and, after it looked like Lowes and Schrötter might tear away from the pack, Fernandez took charge. For three laps in a row, he grabbed a position by taking the tight line of turn 3, getting Arenas on lap 4, Schrötter on lap 5 and then Lowes for the lead on lap 6.
Towards the end of this sixth lap, Acosta passed under Arenas for fourth place at turn 12, and he was on the podium places at the end of lap 7 after Schrötter had a big moment at the rear while he was opening the throttle coming out of turn 13. The German briefly dropped to fifth due to the near miss, but he recovered one of those positions when he passed Arenas as he came to the Turn 1, and stayed in contention for a grandstand finish.
Fernandez, who had been quickest in free practice on Friday, wasted no time in asserting his advantage at the front of the field. He galloped with a one-second lead on lap 8, and had passed it in just three more laps. Lowes continued to race in second and Acosta in third, as Schrötter came under pressure from Arenas. By then Canet had clawed back to sixth, but Vietti had a much tougher task as he battled to try and get back into the top 10.
In fact, Vietti had dropped as early as 14th when he was passed by Manuel Gonzalez (Yamaha VR46 Master Camp Team) on lap 14, before Lowes gave up second to Acosta when he had a back moment on lap 15 at turn 3. Meanwhile, Fernandez is not giving up and his gap to second place has increased to four seconds.
Still, the rest of the top 10 were hard fought in the scorching Sachsenring sun and Canet, who started the weekend far from in top form after a recent car crash, gave up sixth to Fermin Aldeguer in the 16th round. Three laps later he had lost seventh to Aldeguer's MB Conveyors Speed ​​Up teammate Alonso Lopez, a sign that he may be starting to struggle with the physical toll.
Vietti retreats as battle for podium heats up
Then, it was one of Canet's main opponents in the World Championship that relegated him to another place. Ai Ogura (Idemitsu Honda Team Asia), who only qualified 14th, had passed Vietti for 12th in a key move amid the title fight on lap 5, was in the top 10 on lap 12 , then passed Canet for eighth place. Lap 20 at turn 1.
Aldeguer entered the top five by passing Arenas, but the next big moment was Vietti dropping his VR46 entry at Turn 1. The Italian appeared to have completed a pass on Gonzalez for 11th at the start of Lap 22 but bent its front tire and hit the deck. The world championship had just been even tighter due to a zero for Vietti.
Fernandez was seven seconds off the mark at the time, but Lowes and Schrötter were back in the math for second, which was still held by Acosta but under a track limits warning. Lowes passed the Spaniard on lap 25 at turn 12, but Acosta fought back on the next lap at turn 2. That wasn't the end of the story, with the poleman returning at turn 11, only for the rookie to respond with a again with a pass at the very next corner.
All those dice turned a duel into a four-way battle as Schrötter and Aldeguer closed in. The German passed Lowes at the start of the penultimate lap but driver Marc VDS returned the favor at the end. It looked like he couldn't get much closer, but then he got as close as he could – literally – when Lowes and Acosta got a touch as they raced from turn 12 to the 13th and final corner on the 28th and final lap of the race.
Acosta hung on to claim second on the checkered flag corner, 7.704 seconds behind teammate Fernandez but 0.140 seconds behind Lowes. Schrötter was again only 0.115 seconds behind, and Aldeguer crossed the line 0.210 seconds later. He would then have three seconds added to his race time not having had the opportunity to serve a late penalty for the long lap, but that made no difference to the final result as the Boscoscuro rider was classified fifth.
Arènes, Lopez, Ogura, Canet and Tony Arbolino (Elf Marc VDS Racing Team) complete the top 10. The other finalists were Jake Dixon (GASGAS Aspar Team), Gonzalez, Roberts, Cameron Beaubier (American Racing) and Somkiat Chantra (Idemitsu Honda TeamAsia).
At the World Championship, Vietti is still in the lead, but his gap over Ogura has been reduced to just eight points. Fernandez's victory puts him in third position just 12 points behind the Italian, and Canet also fell 17 points behind at mid-season.
This makes the last round before the summer break all the more important, so make sure you don't miss the Motul TT Assen from June 24-26!
1. Augusto Fernandez (Red Bull KTM Ajo) – 28 laps
2. Pedro Acosta (Red Bull KTM Ajo) +7.704
3. Sam Lowes (Elf Marc VDS Racing Team) +7.844
4. Marcel Schrotter (GP Liqui Moly Intact) + 7.959
5. Fermín Aldeguer (acceleration of MB conveyors) + 11.169
6. Albert Arenas (Team GASGAS Aspar) + 11.635
7. Alonso Lopez (MB Conveyor Acceleration) +12.805
8. Ai Ogura (Idemitsu Honda Team Asia) + 13.639
9. Aron Canet (Flexbox HP40) + 13.764
10. Tony Arbolino (Elf Marc VDS Racing Team) + 13,800