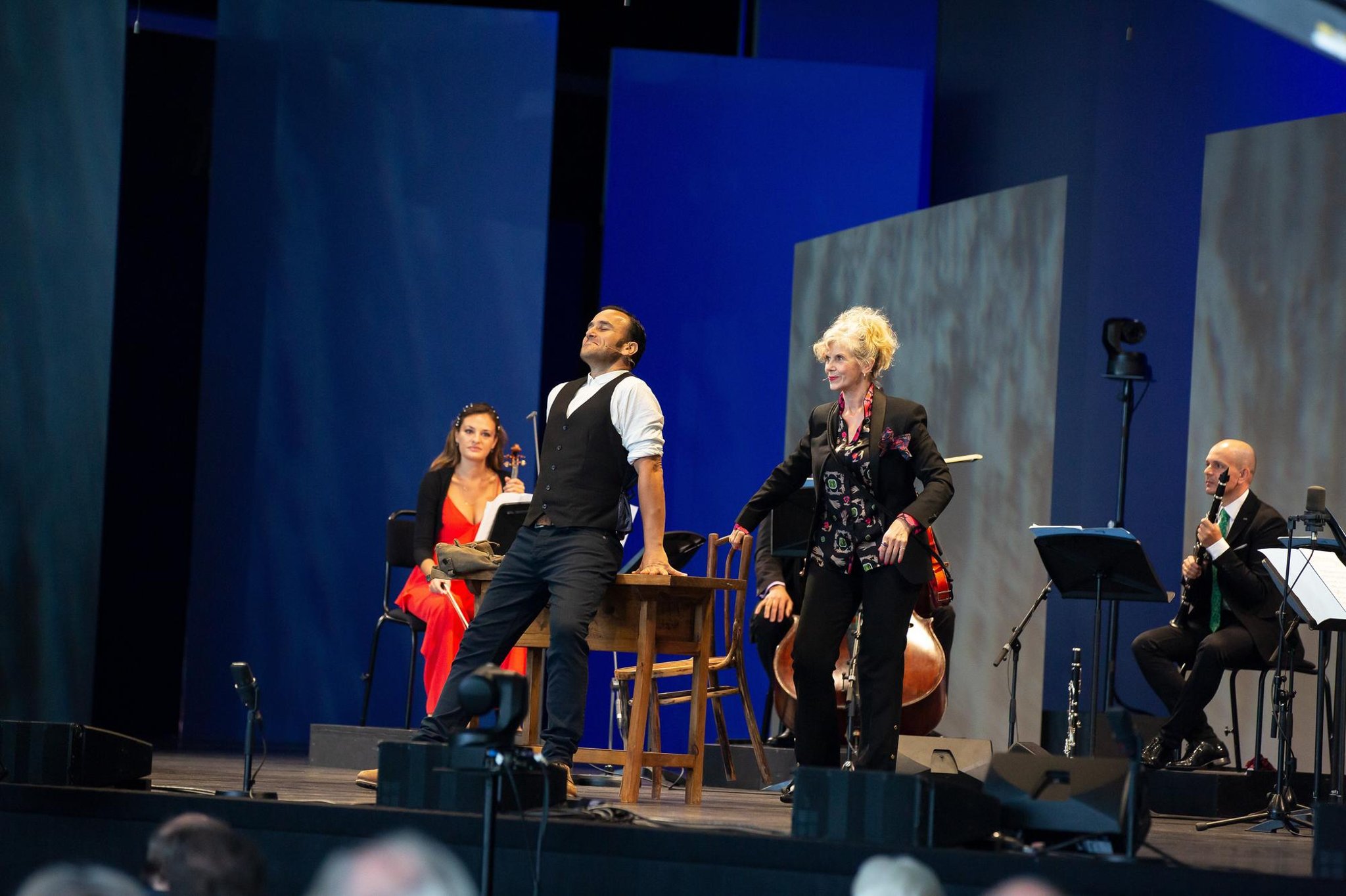 FEI Reviews: A Soldier's Story | Gerald Finley and Julius Drake | Joyce DiDonato – Il Pomo d'Oro | Ariane Auf Naxos
It happened last weekend, but somehow you could say it intensified Stravinsky's evil antics. The soldier's tale (****), which violinist Nicola Benedetti conducted as the highlight of his weeklong residency. It's that old Faustian thread on the devil taking the soul (the violin) of a naive mortal (the Soldier) under false pretenses, so that everything ends in despair.
The scenic element was practical and economical. Yes, it would have been more complete with dancers to add spice to the grotesque parodies of Stravinsky, but with Sir Thomas Allen narrating (and responsible for the simple stage presentation), Anthony Flaum as the deceived soldier and the versatile Siobhan Redmond in as a multifaceted devil. , the story was told in a tantalizing way.
Benedetti and his six handpicked instrumental collaborators formed an impeccable ensemble, a paragon of equals, whose individual virtuosity ignited the acid theatricality of the music. As for the downpour, the rain did not stop the game, although it temporarily affected the audibility of the show.
Elsewhere, it has been a week filled with songs and a series of distinctive performances by giants of the vocal genre. canadian baritone Gerald Finley and pianist Julius Drake (*****) chose the tactic of shock in two collective productions of texts by Heinrich Heine. From Drake's staging bars to Schumann's Dichterliebe were almost unrecognizable, distorted by swollen sighs and overheated rubato. Still, it was strangely captivating.
The same goes for Finley's overall perception of this love-inspired song cycle. Driven by intelligent and thoughtful deliberation, it was not a Dichterliebe identifiable by its constituent elements. Classics like Ich grolle nicht and the fingers of light Ein Jüngling liebt ein Mädchen retained their individual charm, but it was a performance inspired by the bigger picture.
This will not have pleased everyone. But despite his eccentricities – who will forget Drake's agonizing exaggerations when given his own space? – Finley's masterful expressive control and self-confidence succeeded. Schubert's Schwanengesang's six Heine songs inspired an equally compelling performance. Even the seagulls and a succession of passing ambulances had little impact on the gravitational weight of The atlas or the final ghostly nuances Der Doppelgänger. Once again, Finley invited us into a very personal truth-seeking world.
A few hours later, Monday, the focus was on the mezzo-soprano Joyce DiDonato, in collaboration with the slender Italian ensemble of period instruments Il Pomo d'Oro (****) Still the centerpiece of the scene, but commanding a graciously shared presence, DiDonato stylized his selection of tunes and songs from his early days, from Dowland to Handel, such as "My Favorite Things", which have all were sown in a program punctuated by instrumental respirators.
The extraordinary versatility and emotional power of DiDonato held firm: not so much in the opening ensemble of the Italian repertoire, scenes by Monteverdi and Cesti cooly prefaced by the sweet instrumental intimacy of a Salamone Rossi Sinfonia; more by the genius of Handel's tunes which ended up dominating DiDonato's performance.
This is where the temperature soared, DiDonato leaping between his melted lower range and more dizzying heights for a thrilling high, with a moment of restraint in Dowland's lute accompanied Come back, sweet love, and supported by a Il Pomo d'Oro, now rocked by the vivid instrumental fireworks of Rameau.
Compared to the emphasis on individual voices, Wednesday Ariadne in the Naxos (*****) (the first of three performances going through Sunday), with a well-oiled top-notch cast of 17, was an embarrassment of wealth. Richard Strauss's opera is downright insane, blending the understated face of opera seria (Ariadne's classic tale) and commedia dell'arte frolics in what effectively constitutes a charged artistic debate.
As such, it is also extremely entertaining. Louisa Muller's smooth staging, in limited platform space, is as fluid as the non-stop orchestral score, performed on stage with searing zeal by the RSNO under the direction of Lothar Koenigs. The formal black of Ariadne's contingent defies the more daring colors of the comedy crowd and their inflatable palm trees and kitsch novelty.
The characters come and go. The directing prologue, narrated with pragmatic efficiency by Major Domo Thomas Quasthoff, sizzles from the start, thanks to the electricity of the duel that takes place between Catriona Morison (completely Straussian as a composer) and the rest of "the artistic team" including Martin Gantner's protective music master and Peter Bronder's naughty dance master.
At this point, Brenda Rae's flirtatious Zerbinetta is just a preparation for her moving coloratura in the ensuing opera, and a role that is the sunniest of Ariadne's complements on a Wagnerian scale. by Dorothea Röschmann, a passionate presence in tandem with the magnificently imposing Bacchus by David Butt Philip. . There can be few better arguments for the power of opera than the breathtaking music that finally brings them together.