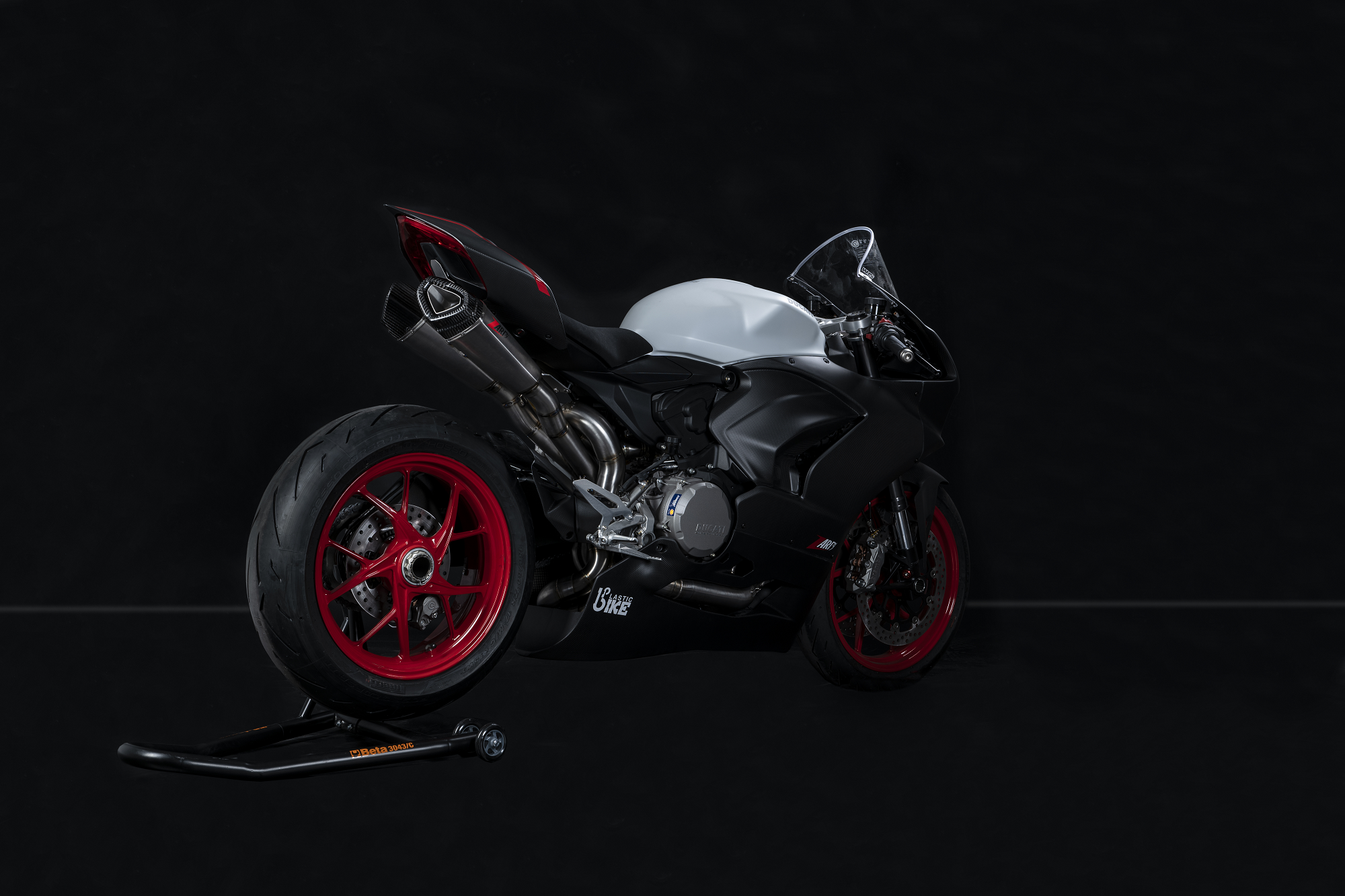 Ducati Panigale V2 gets full Zard racing treatment to…
Zard announced a number of new products at the EICMA show in Milan, from exhausts to aesthetic complements, for motorcycles, from Harley-Davidson power cruisers to Ducati sportbikes.
Zard is well known for its exhausts, adding performance and lightening production motorcycles via the tailpipe has become a specialty of the Italian brand.
Zard Sabbia Line
For 2023 a new slip-on exhaust has been released by Zard aimed at adventure touring bikes called the Sabbie.
Specifically, the Sabbia is for the Aprilia Tuareg 660, Ducati Desert X and Yamaha Tenere 700.
Its design inspiration comes from "African rally raid bicycles," according to Zard, but it is "filled with modern design elements" and that "Sabbia combines innovative production techniques with unique, sophisticated styling."
It features a heat resistant screen printed graphic element, as well as an aerodynamically shaped carbon fiber heat shield which is of a different design depending on the motorcycle model it is built for.
The main material is stainless steel for the Sabbia, which also retains Euro5 approval.
Sabbia exhausts can also be combined with engine guards from the same range, also in stainless steel.
The Sabbia line is already available on the Zard website.
Zard racing kit for Ducati Panigale V2
The second product revealed by Zard at EICMA is its first racing kit for the Ducati Panigale V2. This is the machine ridden by Nicolo Bulega, Federico Caricasulo and Raffaele De Rosa in the Supersport World Championship.
For the Panigale V2, Zard produced not only a racing exhaust kit, but also a new fairing, as well as an ECU.
The exhaust kit includes stainless steel headers and mufflers with a titanium body and carbon fiber tips. The headers themselves now run under the engine, while the mufflers are triangular and connect to the rear section of the bike.
Zard's new ECU, called Impulso, is specifically designed to work with the new Panigale V2 racing exhaust kit. When combined, the Impulso ECU and the Zard racing exhaust kit will, according to Zard, provide a power increase of 6%, while the exhaust alone will save 5.1 kg compared to the system standard.
As for the fairing, it is made of a kevlar-carbon fiber composite, and can be finished in satin or gloss paint.
Zard says: "Prices and delivery times for the new Zard exhaust system for Ducati Panigale V2 and the composite racing fairing kit are available on request."
Zard also made the Impulso ECU available for the Triumph Speed ​​Triple 1200 RR and RS models, for which it had previously manufactured two exhaust kits.
Zard mounting kit for Harley Davidson Sportster S 1250
Zard had previously released two exhaust systems for the Harley-Davidson Sportster S 1250, the GT and Top Gun systems, but has now added a range of carbon fiber accessories to its kit for the American motorcycle.
The accessory line adds a headlight shroud, radiator cover and left side panel to the cruiser, which adds "a quintessentially Italian style," Zard says, to what is undoubtedly an all-American powered cruiser.
Ducati Panigale V2 test