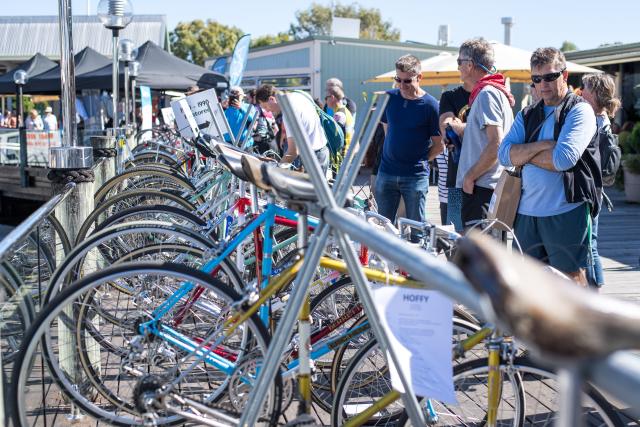 Don't miss the Noosa Marina Classic Bike Show
By Abbey Cannan
The Noosa Marina Classic Bike Show and Swap-Meet 2022 is a celebration of bikes in all their forms and includes a bike swap, show 'n' shine and more.
This year is the 10th edition of the Classic Bike Show and Shine at Noosa Marina, taking place on Saturday 13th August from 10am to 2pm.
Originally raced under the Noosa Strade Bianche Gran Fondo vintage bike umbrella, Covid and recent extreme weather events have forced its postponement for the past two years.
Bike swap is your chance to unload or load, while show 'n' shine gives you the chance to show your pride and joy.
Andrew McKellear said the event was relaunched in response to pent-up demand from people who had attended past events.
"Noosa Marina has always been very welcoming to us from the start, when two of us had a wacky idea to organize a vintage cycling event," he said.
"Many thanks again to Warren from Noosa Marina."
Andrew said the Noosa Strade Bianche (NSB) was a tribute to the golden age of cycling and a celebration of the steel-framed cycle.
"NSB encourages the renaissance of craft steel framing that is taking place across the world," he said.
"A lot of these old bikes are like fine jewelry, with the bling and craftsmanship you don't see with modern carbon fiber bikes.
"For the above reasons and the fact that many more people have been cycling since the start of the pandemic, the show will certainly be of interest to a large part of the community. Not to mention the range of fine restaurants located in Noosa Marina. "
The bicycles on display include classic Italian and Australian models from the 1960s and 1970s, as well as several examples from the early 1900s.
The environmental and health benefits of choosing the bicycle as a preferred mode of transport are long deserved and at this event, cycling enthusiasts come together to celebrate, swap and talk about bikes over coffee and great food.
Admission to the event is free for exhibitors, but they must provide their own bike rack at ground level.
Visit the Trybooking page for more information at trybooking.com/CBDZD